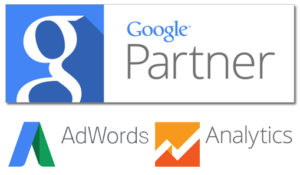 So What Is Google Adwords?
As a Google Partner BC Web Solutions can help you deploy a Google Adwords Campaign. We already manage accounts with monthly budgets of $150 to $2000 spend per month. This means that based on a monthly budget we will help bid on search terms related to your business.
We don't make any money from this spend so helping you pay the least PER CLICK and paying for the MOST RELEVANT keywords is our goal.
In addition to the COST PER CLICK it is also very important to try different AD TEXT. This plus the PAGE the AD takes the client to are scored and BEST MATCHES PAY LESS PER CLICK…
There are a lot of ways to waste money here and ultimately you would like your site to show up as much or more in the Organic Searches below the paid Adword's advertisers.
Lets deploy a Online Strategy that achieves both Organic Search Engine Traffic as well as a paid. Through content and web site design we can start a plan to help you get found.
Below is an example of GOOGLE ADWORDS PPC, GOOGLE MY BUSINESS and ORGANIC RESULTS with our CLIENT "SURREY CARPET CENTRE FACTORY DIRECT" looking good…